Spin the Console! This Clear Turntable Stores a Nintendo Switch, Joy-Con Controllers, Video Games, and More
Nintendo Switch ironically has you switching out games every time you want to play. Add in 4 kids and only two Nintendos and you can imagine how many times a day the games are being switched out. Enough to make you dizzy and go hunting for a new storage solution.
Playing video games is one of our favorite past times as a family. When we were redesigning our downstairs, a must have on our list was a space for the kids to play and store their video games. Although, we are still working on our new family entertainment hub, that didn't stop them from throwing their video game stuff all around.
As much as I love playing Nintendo and watching my kids play, I equally don't love storing all of the items that come with it. When Ben first suggested that we get the kids Nintendos, the first thing I thought was where are we going to store more video games? It's true. The amount of Xbox video games we have is nuts. I couldn't fathom adding more. Any yet, We did it anyway because we love Nintendo.
In This Photo:
What Nintendo did well
The game packages are a lot more compact than most gaming systems.
Each Nintendo Switch has its own charging dock, which doesn't look bad as decor.
Everything is interchangeable.
You can easily go from one player games to 2 or more with more than one Nintendo.
And hello, you can play Animal Crossing & Mario Kart.
There are so many positives but I was pretty sold at Animal Crossing. Original OG.
What drives me crazy
You have to switch out the games every time you want to play them.
They come with a charging dock, but most of the time they aren't on the dock unless someone has run their battery down to going dark mode.
The games add up quickly.
You need to know where all the pieces are every time you want to play.
You need an Animal Crossing disc for each Nintendo Switch to have your own island. Not cool Nintendo, not cool.
Is Nintendo Switch Worth it?
All the negatives aside it's absolutely worth it. My kids light up when they discover a new recipe in Animal Crossing or demolish each other in Mario Kart. The system is compact, but can also be connected on a bigger tv by simply placing it on the dock. It's easily shared and enjoyed by all. And hello, did I mention Animal Crossing? In case it wasn't obvious, that had me sold.
Our family favorite Nintendo Switch games
Why I love this Nintendo Switch storage idea
-It's easy to maintain
-Fun to spin
-Fits the size of the Switch and games perfectly.
At any given time, we aren't using more than 4 games. The kids tend to switch them out and play favorites until they get bored. This turntable from @idesign without knowing it provided the perfect divided compartments. I love when that happens. Have more than one kid? Get two turntables. The best thing about a clear turntable Lazy Susan is how it can become decor or simply be stored away. Fun fact, Lazy Susan is a turntable meant to be placed on a table for all to enjoy. I know… pretty fun right? Whats not to love? I don't mind our switch turntable sitting out on our tabletop. It's used every day and the kids turn (see what I did there) to it first. When it's time to put their systems away for the night, they know where they go. You would think it would be the charging dock, but nope. Definitely an organized turntable. Maybe I rubbed off on them a little or maybe they just really love it!
We've been using this method since Jan 2021 when the kids received their Fortnite Wildcat Bundle Switches for Christmas. One day I was standing in the kitchen and looking at the Nintendo pieces spread out everywhere. Not to mention someone couldn't find one of their wrist straps… sound familiar? I grabbed the turntable we were using for napkins and dumped it out. It was obvious by the clean countertop I was starring down 5 mins later that this was a game-changing storage idea. I actually love the way it looks now, and I'm excited to have it out on our family table on display for all to enjoy.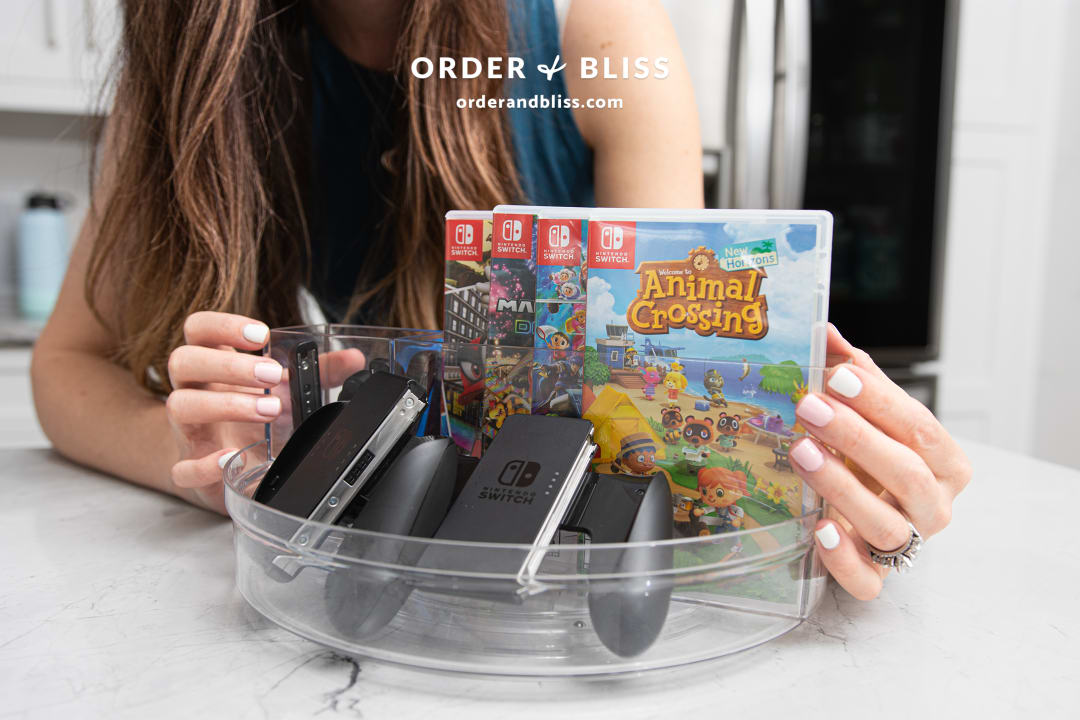 In This Photo:
The benefits of this clear turntable…
You can easily clean up after hours of play.
You are way less likely to be missing pieces since everything has a home.
It looks super clean with its clear design and low sides.
It's really fun to spin when you're waiting for your turn.
Happy Mom Happy Kids
Display the things you love and that spark joy
I love taking typical organizing products that have a cookie-cutter way of using them and turning them into something new. It's amazing all the ways we can store things if we just play around with them. Adding all these items to a cabinet and tucking them away only makes sense if the system isn't being used 30x a day. Not un exaggeration. If you are using something, it should become part of your home. Put it out on display and enjoy it all day long. We sure do.
To many happy Nintendo days ahead for both you and your kids!
All the Links!