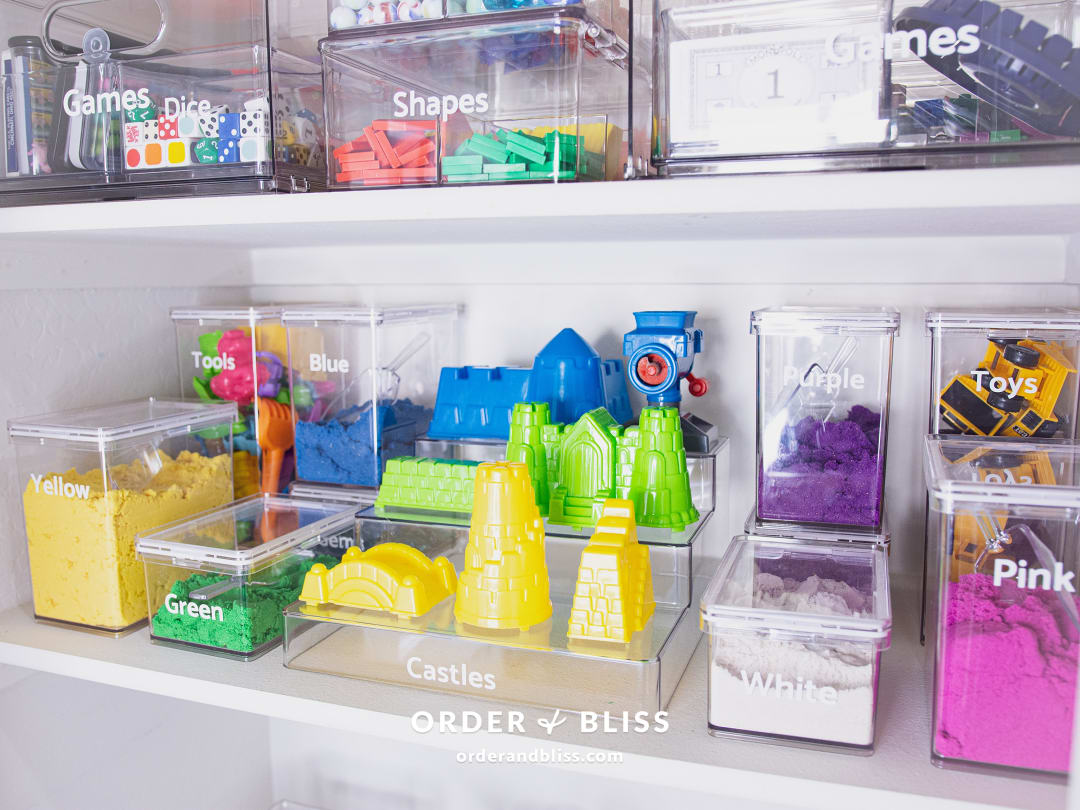 How strong is your game or more importantly how organized is your game… Closet??? 😜
If we're talking about my game closet, the answer would be pitiful, but if we're talking about my beautiful client's closet- MAMAS GOT GAME!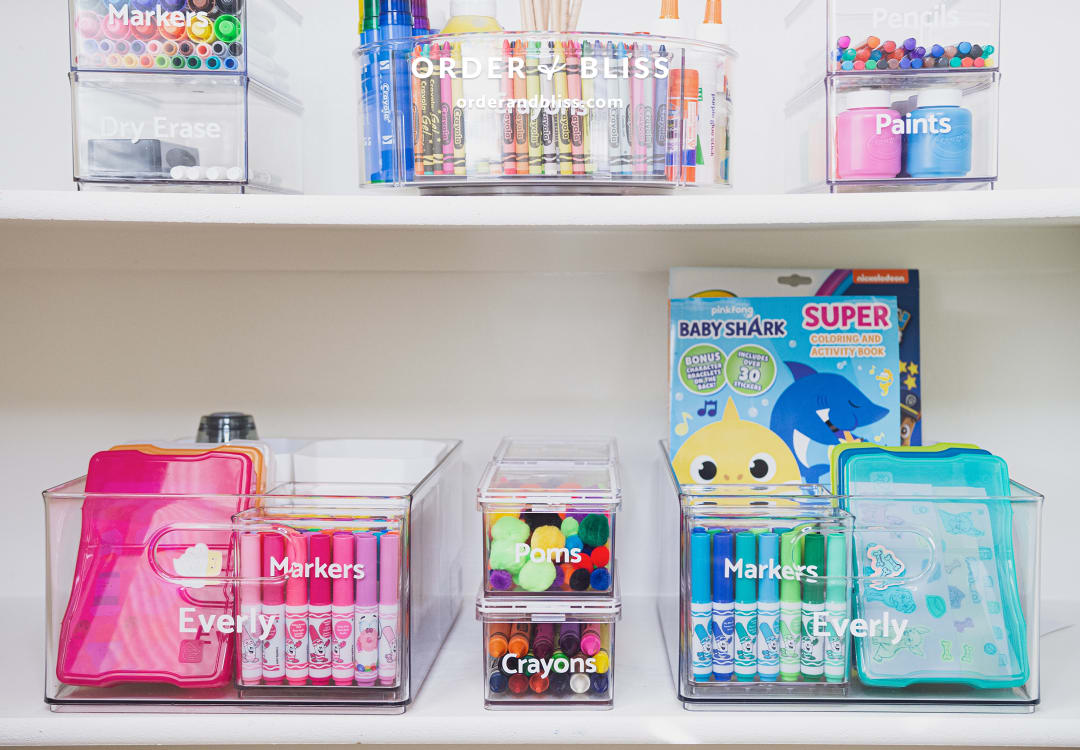 I try not to play favorites when it comes to the spaces I organize but this is definitely Top 5! This isn't just a game closet. I made this closet creative central.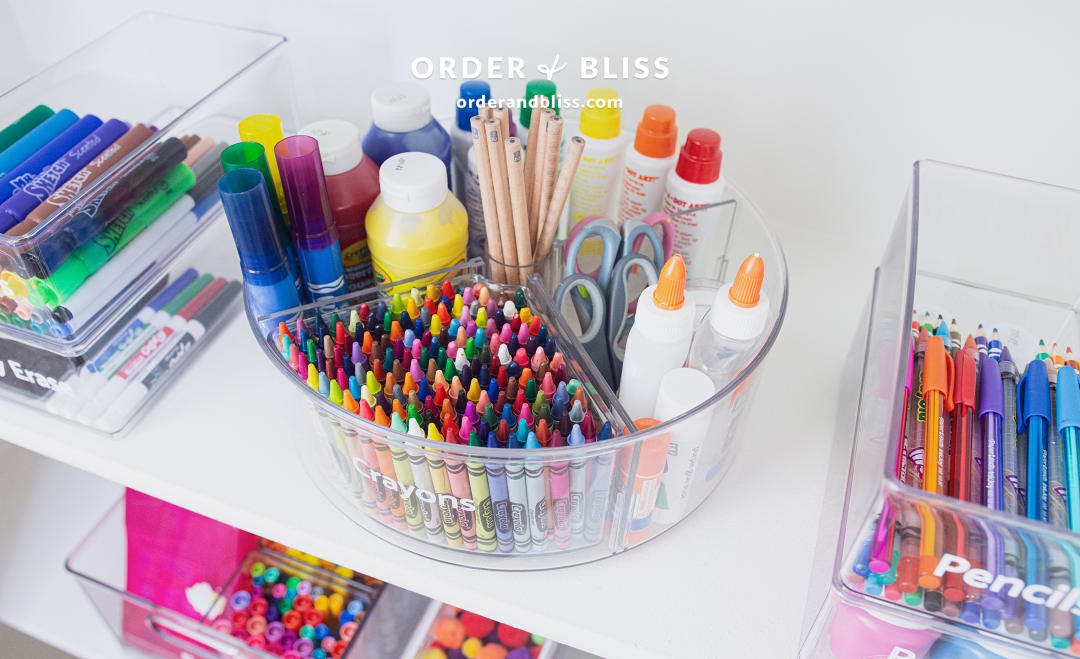 The previous space looked nice, but it wasn't working
I received a little comment criticism over the before of this space.
I'm famous, you didn't know. ;) It's part of the reason why I don't post as many before photos on my Instagram as I do here. I've said it before but I'll say it again… A before should never look like an after. If you are having a hard time finding the items then the organizer did a great job. They've created a NEW space.
Some of the messages I received stated how organized it looked already. BUT friends, what works for some doesn't work for everyone. This space was NOT working. It was a constant place of anxiety and frustration. As soon as an item was pulled out another one would be and so on until the entire space was on the floor. Every single day.
Are the items contained? You bet, but containment isn't function.
Let me say that again, CONTAINMENT ISN'T FUNCTION.
Anyone can throw items in a bin with a lid and call it a day.
A lot of people do. I say, keep the lids off. The next time you organize something, really challenge yourself to not cover it up. Of course, there are certain items that make sense to place in a container with a lid but for the most part, we shouldn't be trying to hide our items, we should be displaying them. Why are we keeping them, if we're just storing them away?
It's such a dated mentality to stack all our items in bins.
I love Marie Kondo, I binged watched Tidying Up (hello 3 am) but the mess that was left in those bins isn't going anywhere unless they keep going. If you have so many items that you have to keep stacking bins to the ceiling its not about organizing anymore. You cleared the space, you made progress but you're not done. You need to really take a look at what you keep.
I asked my client if I could share this with you and she gave me her permission.
Her son is autistic and a collector. He is younger but he views objects as more than just objects. He gets very attached. Not only that but he's so aware of all the things he has and as soon as something is missing, he'll ask for it. His memory recall is impeccable. This space was so difficult for her to clean out, AT FIRST. There was a lot of hesitation. Not because she didn't want to do it, but because she was fearful. Fearful of what the loss might bring. Some of these items have been in the same spot for years. The idea of getting rid of even one marble was terribly hard. She was worried.
I share this for two reasons. First, so that you can understand that organizing is a process. True change to your space means making hard choices. Letting go of the items that are weighing you down.
Don't let the burden of gifted items, be your burden
Secondly, so that I could share her inspiring triumph. Not only that one triumph though. Since this space she has had many others throughout her entire home. It's hard to stop once you start but its a good kind of addiction.
This creative space also belongs to the sweetest little toddler. I created these bins for her little girl (I bet you CAN guess her name) with all her favorite things in mind. These pink markers reminded me of her so much that I had to give them their own organizer.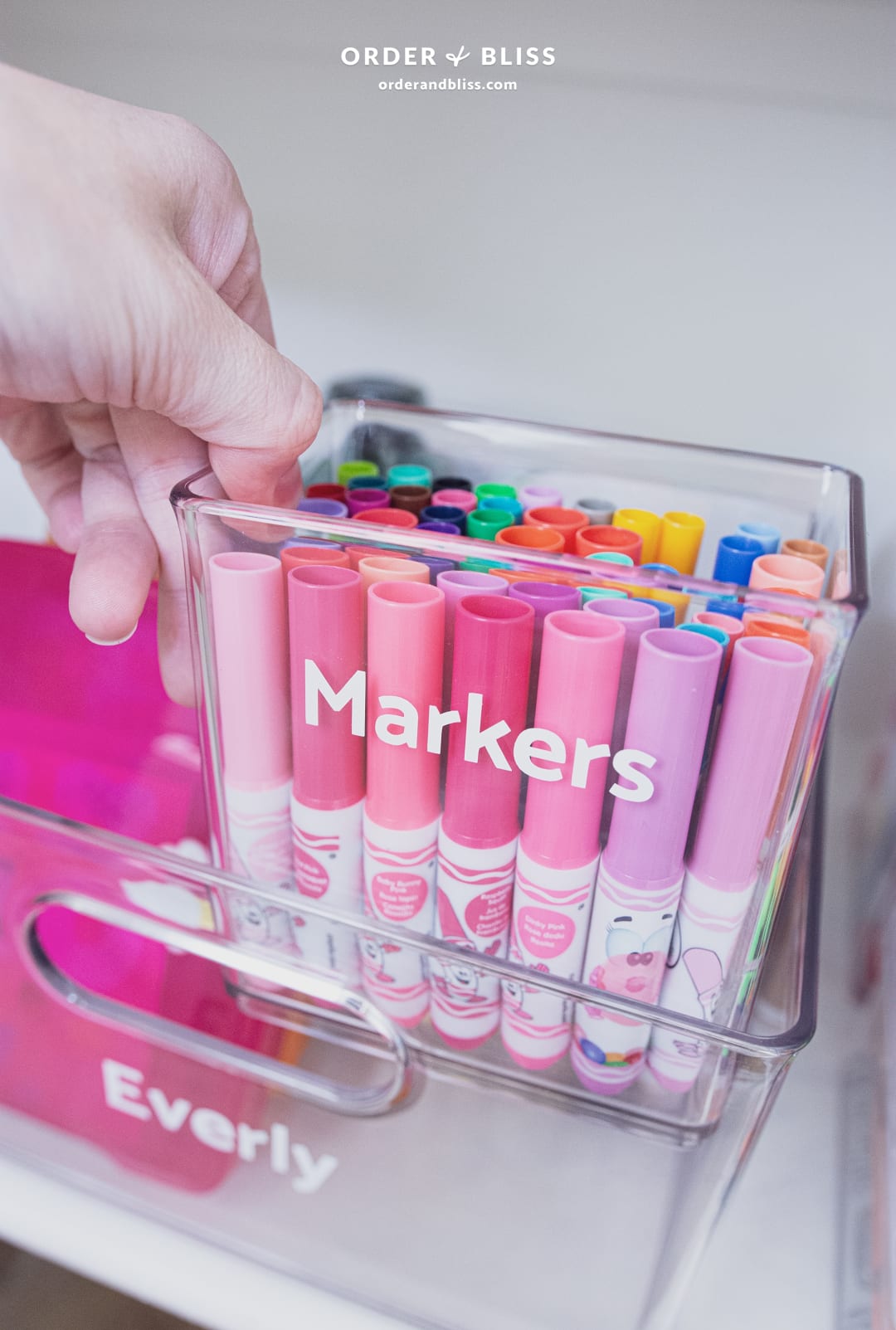 One of the hardest parts about homeschooling multiple children is keeping the others entertained especially toddlers. It's a constant battle of who's going to get mom's attention and the only way to combat that is with ALL THE THINGS. Distraction is the key and of course play.
For this space, I used a combination of my favorite items and even a few new ones…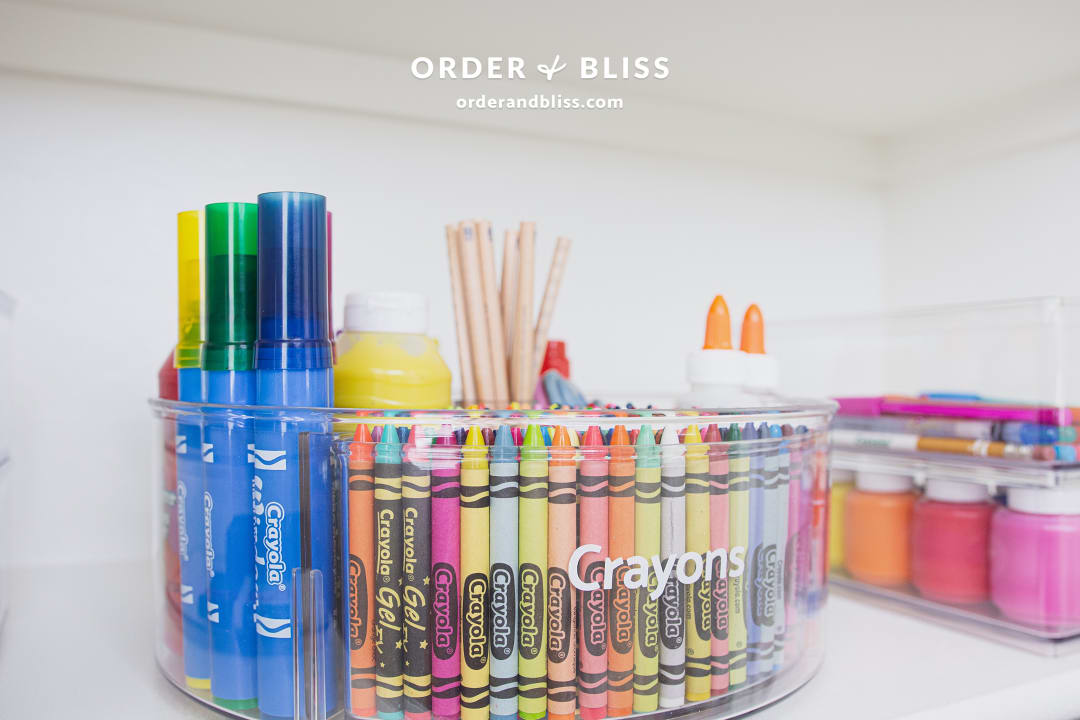 Organizing products used in this game closet
iDesign (formerly InterDesign) bins, turntables, cabinet organizers, shelf dividers, and cloth bins.
The Home Edit line of iDesign canisters, bins, and organizers.
Probably one of my favorite items in this closet are the stackable cabinet organizers or more easily recognized as tea sorters. But if you know me and my organizing style, you know that I tend to take a product and not use it as it was intended. I love to challenge myself to think outside the box. It's one of the ways I'm constantly elevating my organizing.
The main problem with these marbles was that you couldn't see them. They were kept in a Tupperware container and it was difficult to see what was what. When I started sorting these I found so many duplicates. We purged those and some older marbles, and just like that this little boy could see every marble he had.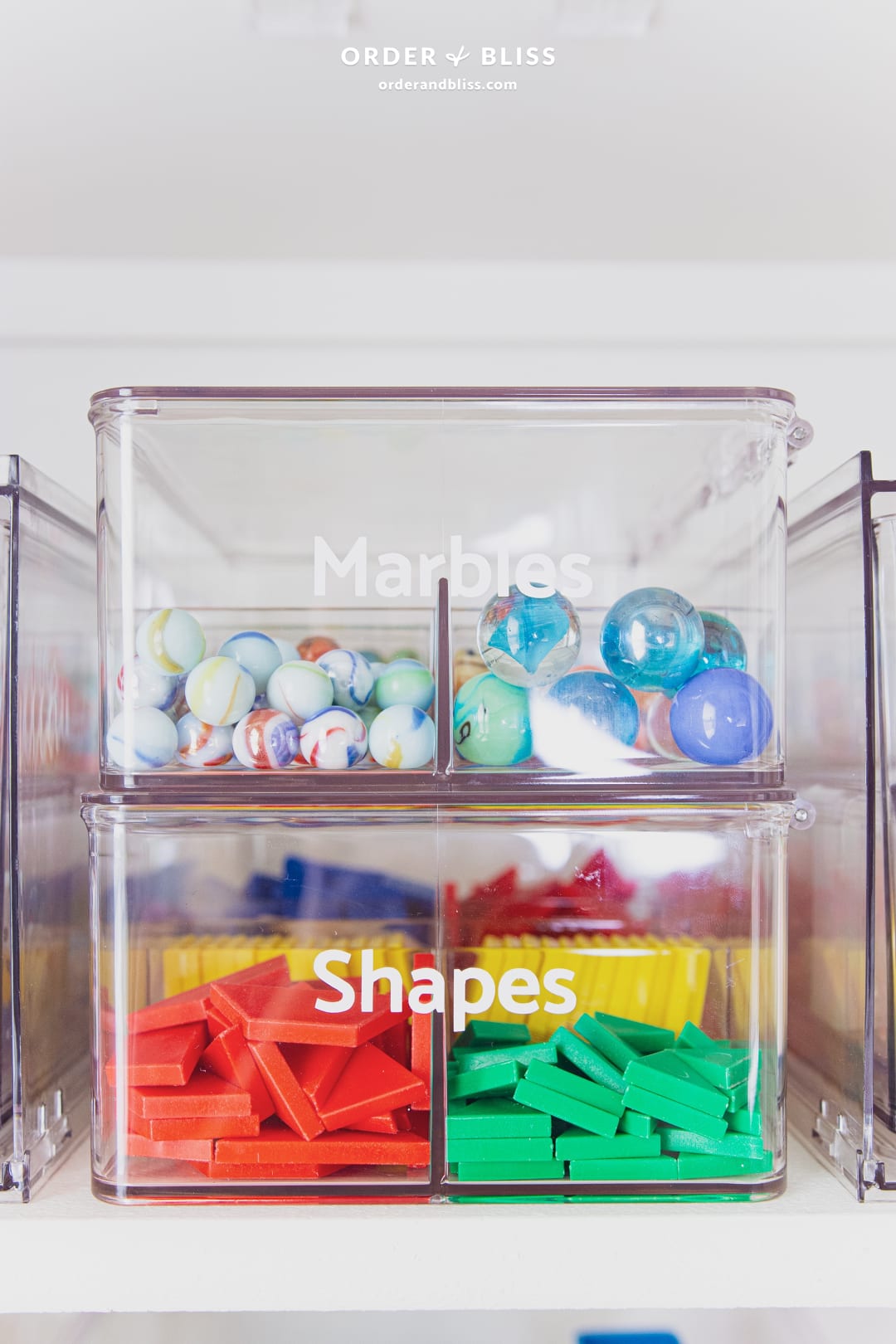 If you don't know it already, I get giddy over organizing products, especially the ones that are made well. I value quality and it makes me so excited when a product lives up to it. These lids are sleek and the divided squares are a perfect size. I'm sure one day I'll use these idesign bins for tea but for now, the possibilities are beyond the label.
A durable alternative to Ziplock bags
A little back story first, when I was shopping for this Craft Closet. I was looking for the perfect item for her daughter's little games and bead sets.
I was so close to finishing up the project but nothing was quite right. I always loved Ziploc (but let's be honest, they've changed) and in my opinion, these are the next reliable Ziploc. Any item I have kept in a Ziploc in the past is now in one of these. Except for parishable food items, but you never know!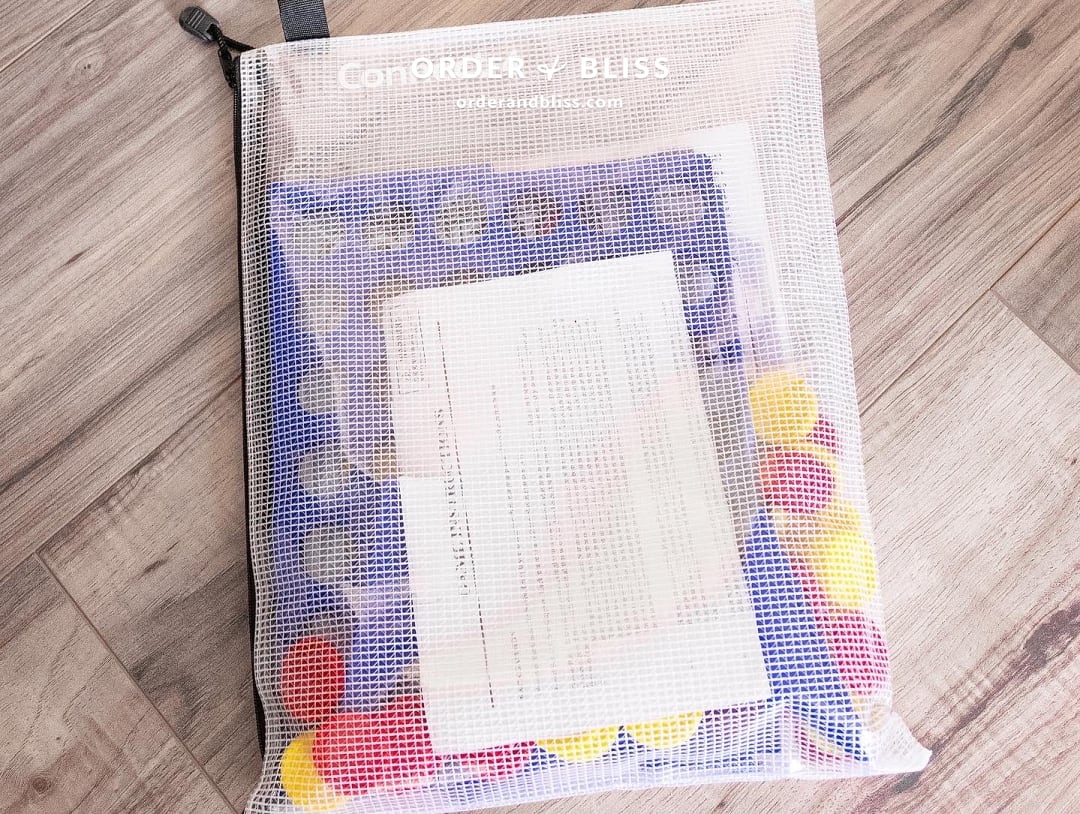 When I went on vacation, my entire carry on was lined with these.
I wouldn't go as far to say they have changed my life or anything but I'm so impressed with how they're made and their functionality. Plus, I spilled coffee on one of them and it wiped right off. Now tell me this isn't the pouch of the future. You couldn't convince me. No way!
So, I've already shown you the before of this space and you may have noticed a lot of board games… I mean a lot. Maybe you were curious where they all went… well I'll tell you.

Organize your board games and never lose a small piece again
Every game was unboxed and given a new home.
The bigger game boards that typically require such a large box to store them… placed at the top between 2 shelf dividers. More on that soon. Oh YES!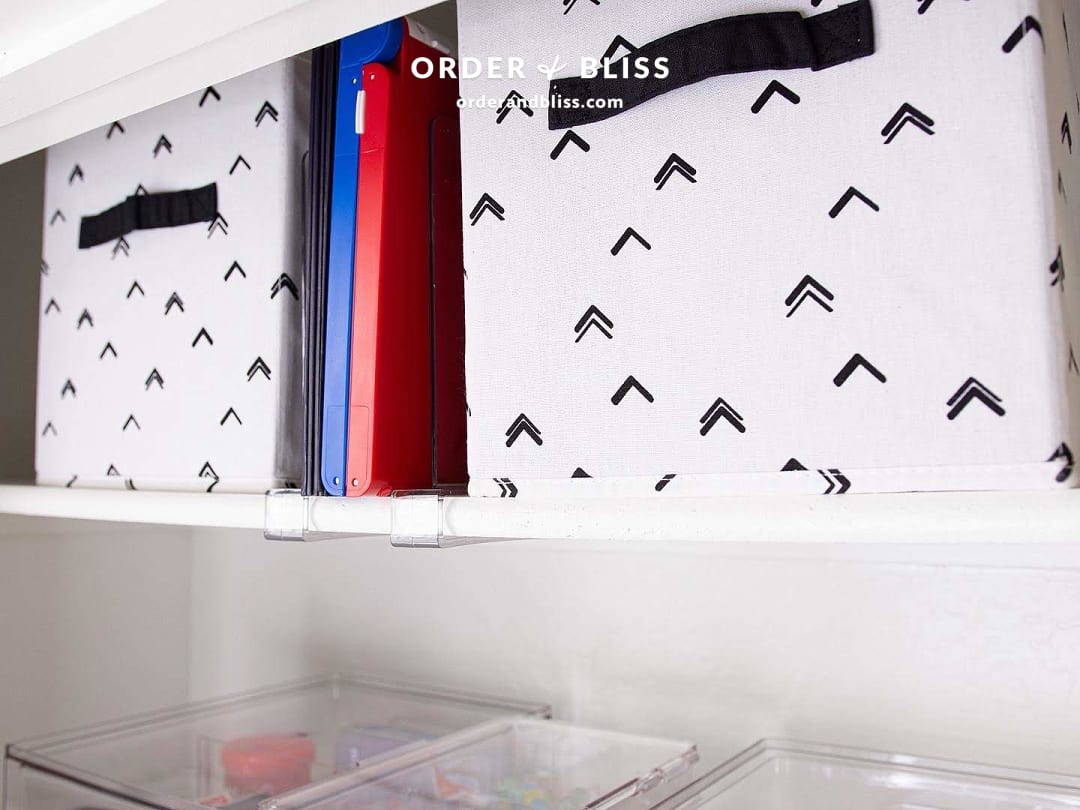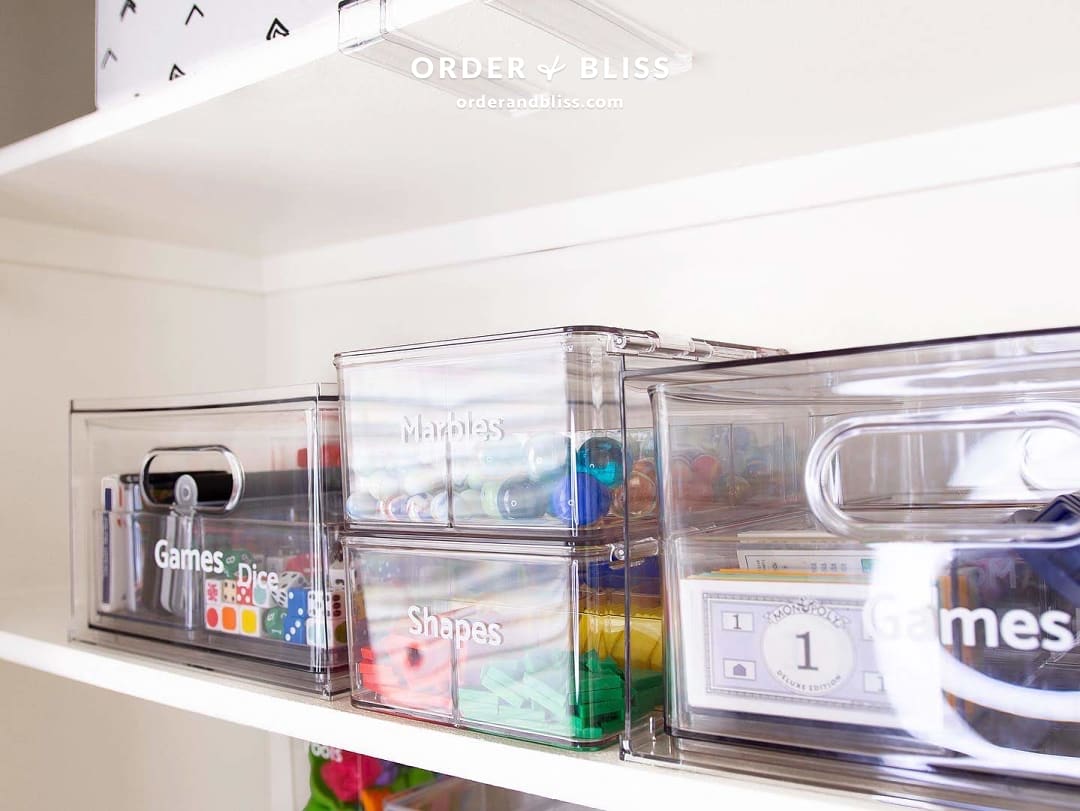 All those tiny pieces that were constantly getting lost or tossed around in the boxes… contained into their own individual labeled organizers.
The small organizer from @TheHomeEdit may be my all-time favorite. Here's another way I've used them in other spaces…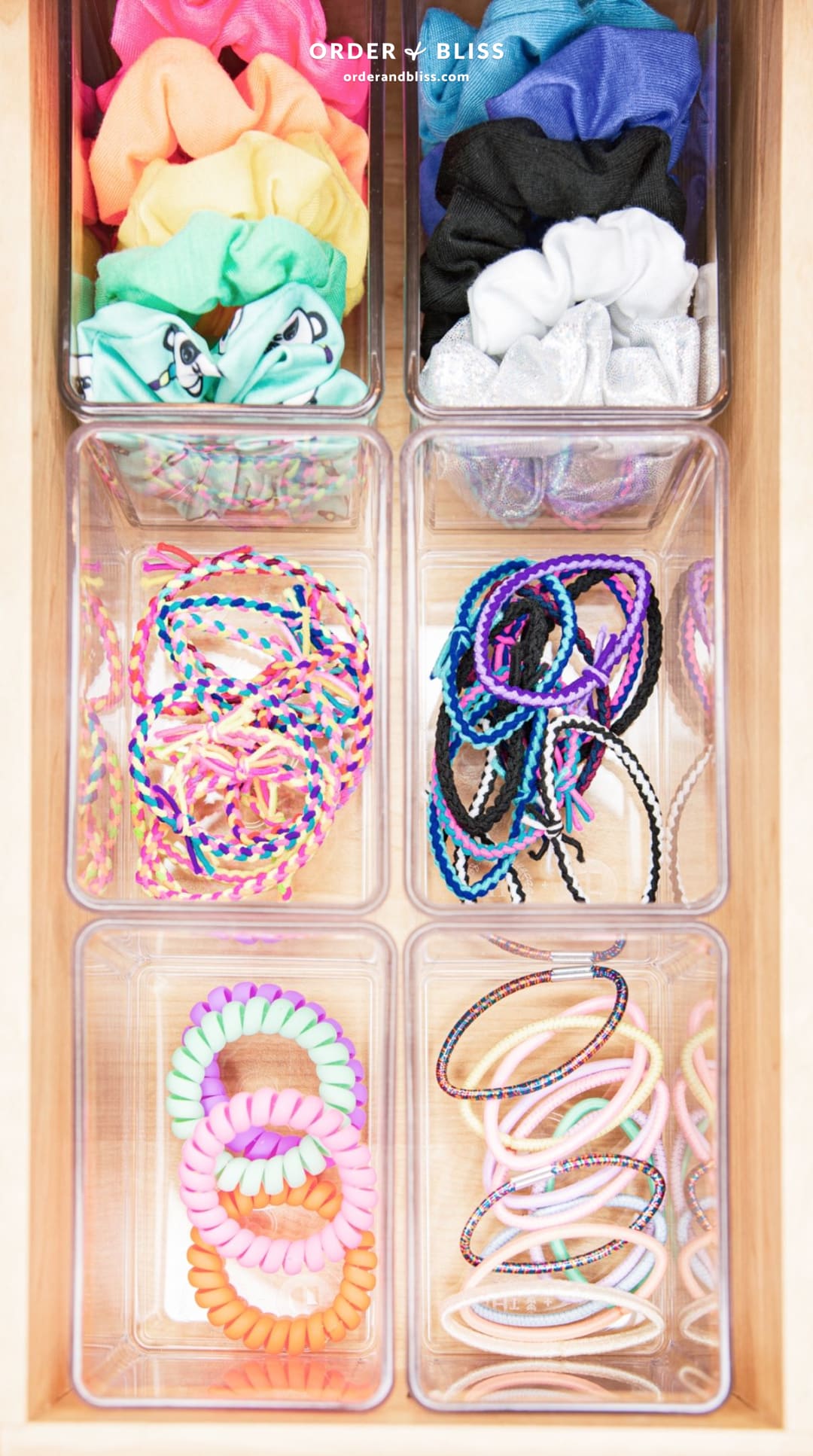 The rest of the games were placed into the pouches and labeled.
The organizing zip pouches fit perfectly into these super cute cube organizers.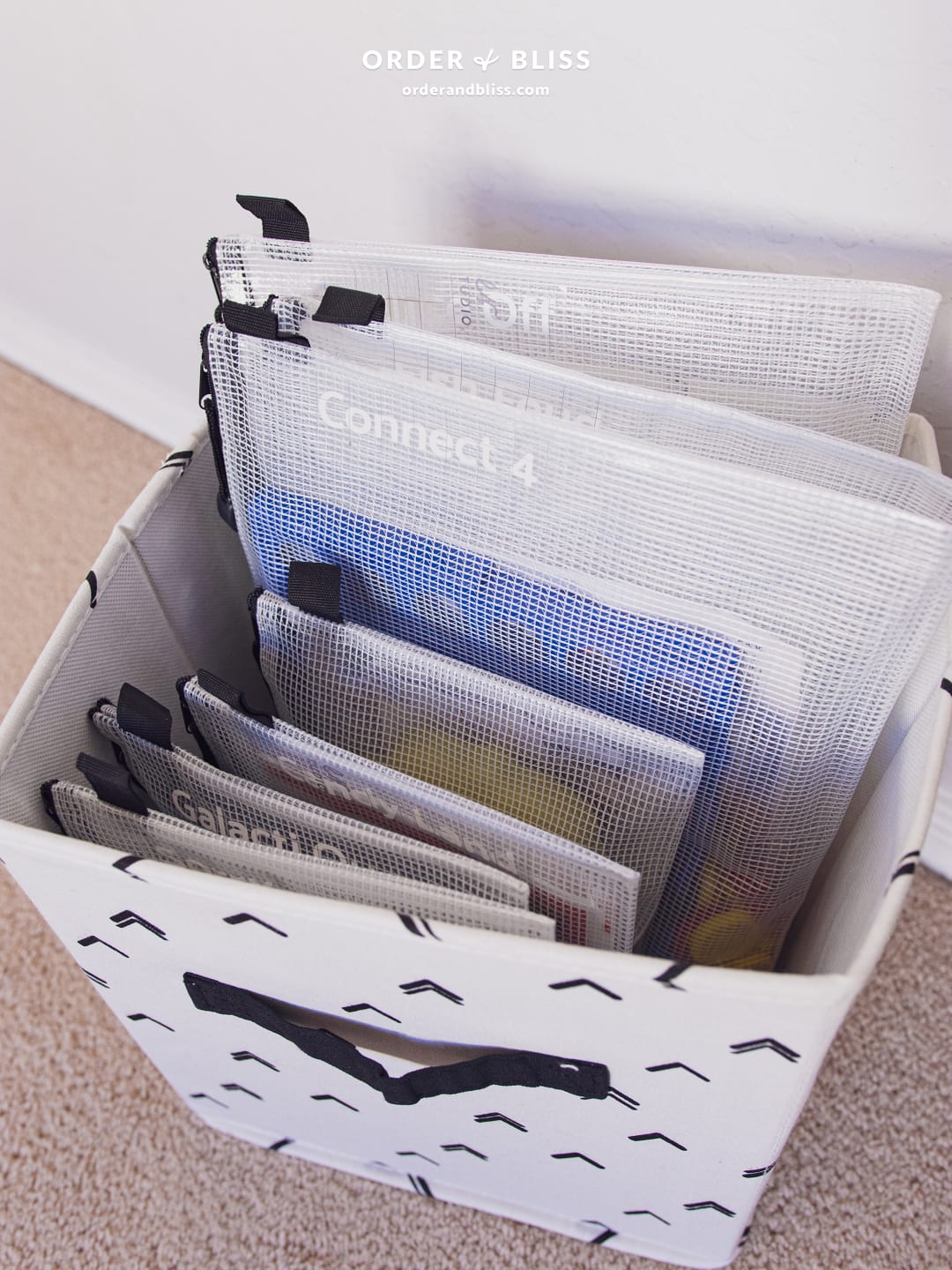 All the boxes were recycled and now this space can breathe.
As stated above, I've used these zip pouches quite a few times since for many different things and I knew they would be perfect for what I had in mind for these games. I was so excited to get these games unboxed and organized. Instead of fighting with so many boxes, I was able to fit everything into ONE bin. Just one. Virtual HIGH-FIVE. BAMMM!
How to organize large board games
What if large board games don't fit in the zip pouches? Most of the time they do fit the bill. These particular ones come in three different sizes. However, there are certain games (Monopoly) that are just too large for them still. Oh, but there's always a solution.
I knew from the initial consult on this space that games were important but that the sheer amount of them and the size even with my organizing skills, would pose a bit of a problem! ;) So what did I do to get it all to fit?
Shelf dividers aren't just for clothing shelves
Shelf-dividers to the rescue! Not only are they gorgeous but they are easily expandable when paired together, so you can create whatever size space you need. This was a newer item for me. I had seen them in pictures but never organized with them. I was pleasantly surprised. They were clear, engraved, and just so well made.
I know its just a shelf divider but sometimes items that are simple don't hold up but this wasn't the case for these. I knew in my head how I wanted to use these but I was happy with how they worked in the final space. I was a little worried about knowing which board is which, but a simple label or turning them inside-out will do the trick. Game board filing… CHECK.
Full disclosure: my custom vinyl labels didn't work the first time I tried this.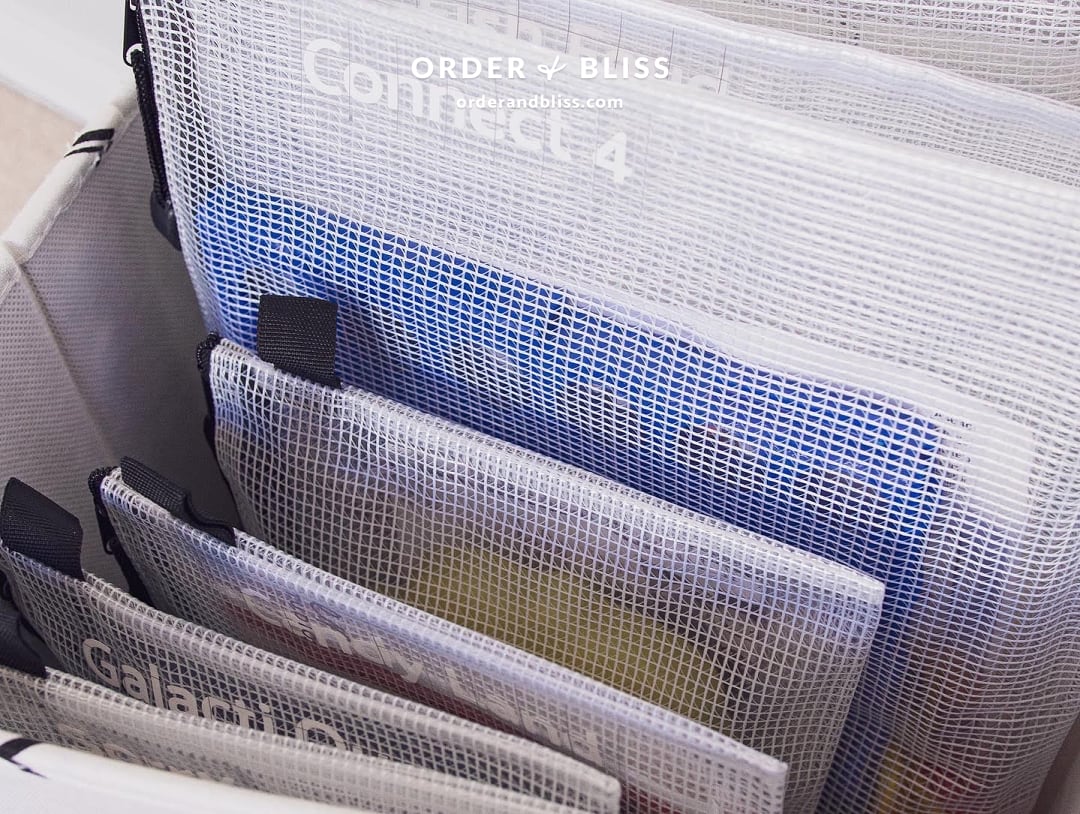 It ended up just being the type of vinyl I used. I had been getting mine from @HobbyLobby but it seems they have changed the quality of their vinyl. What else is new? A bigger price, much lower quality. A friend offered up a new brand to try which I will link as well. I've had success with @OfficialCricut as well.
Always learning… 😆
What is Kinetic Sand?
Well I'm not entirely sure, but it's amazing. What I can tell you is… it's FUN! SO MUCH FUN. It has this buttery feel that could only be described as the perfect beach sand but it doesn't leave a mess. It's basically the perfect blend of real sand feel without all the mess and need for multiple showers. I'd heard of Kinetic Sand but never really knew what it was before I was starring down multiple containers of it. My kids now play with it all the time. My daughter makes food for her dolls. My boys have made a building platform for their Lego characters. It molds into whatever you want it to be. I really don't mind it at all, after play is done I just whip out my @dyson and its game over. Quite the opposite of real sand.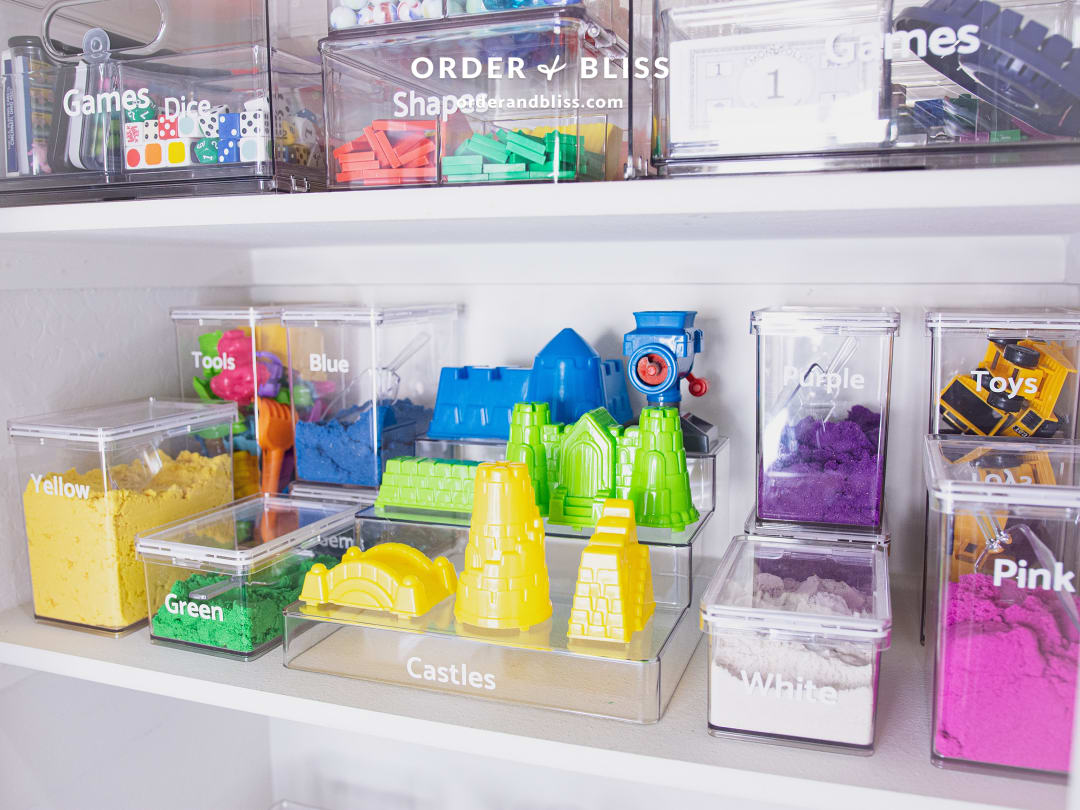 These canisters were also new to me at the time. Of course, I'd seen them but I had never used them to organize with.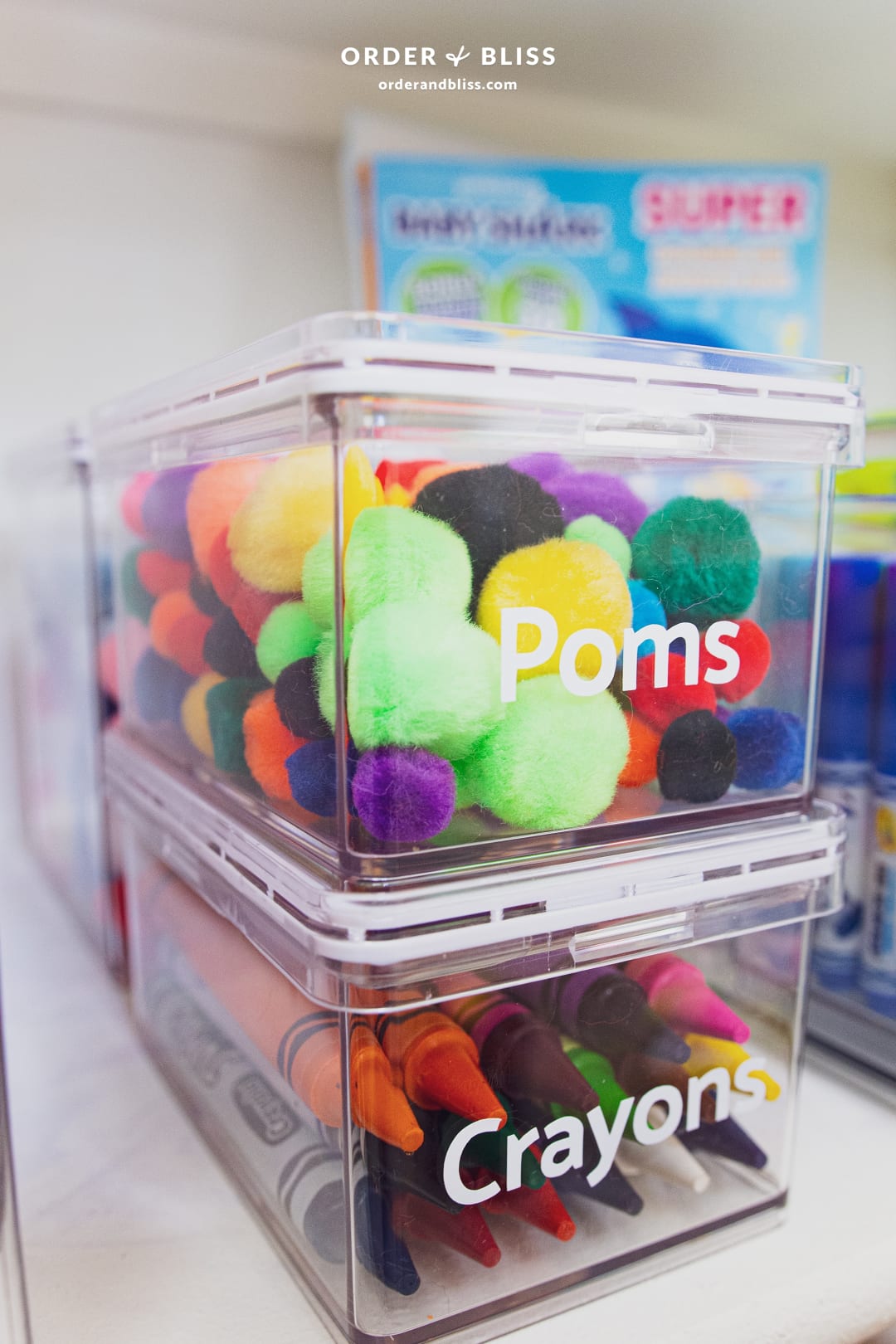 If you're looking for these, you may want to check the Kitchen Section of the Container Store not the toy aisle. They are typically used in the pantry. Here's an example of how I used them in a pantry.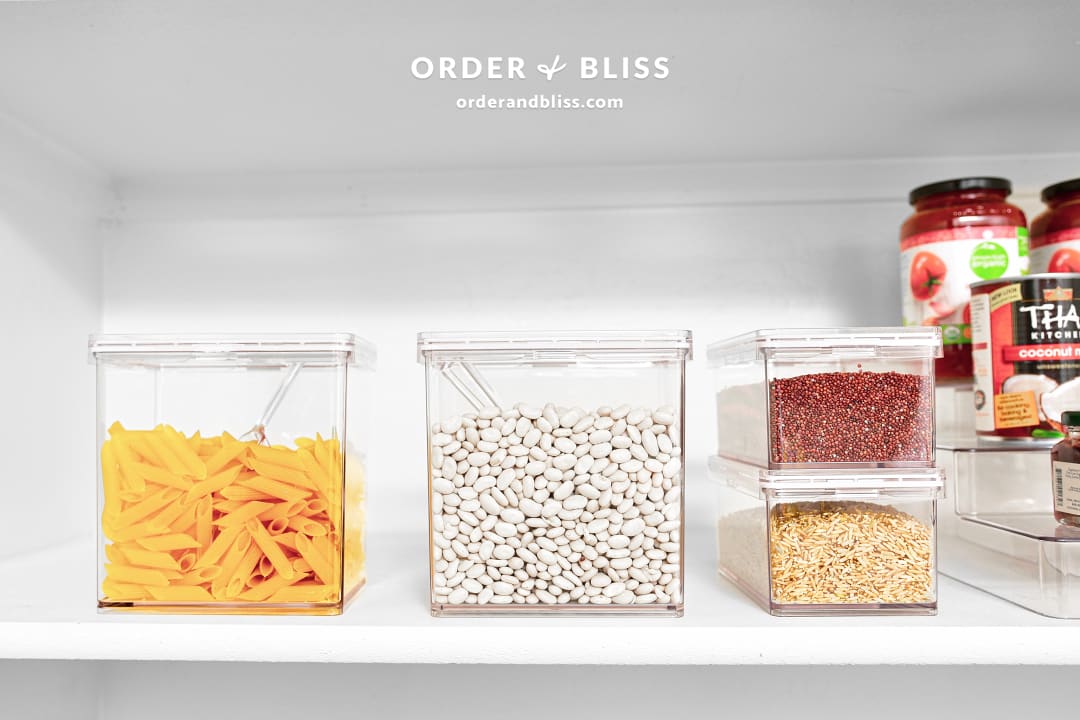 See, I told you I like to think outside the box. Since creating this space I've given my own kiddos a miniature set up and they love it. Like I said before, there's no cleanup, the lids protect against spills and hello beautiful colors. It really is a great way to contain it all. Give it a try if you have some sand fans.
The shelf I dedicated to all this sand contains…
Clear canisters
Mini scoops (I'm a sucker for these things)
Custom coordinated labels
A riser for his castles
All of this equals…
Hours of fun
Easy cleanup
A soaring imagination
One happy mama
The sweet little boy behind all of this sand finds so much joy in it. Oh, the wonderful things he will create in his new space!
My client has been using this space for months now. Here's something she said to me. "I love our setup. It's so so easy to just grab a game and go. No box to pull out and worry it will open and spill all its contents out onto my head. 😂 Clean up is just as easy. Keeps everything together where it needs to be. "
You will never regret clearing out your space to only hold the items you love
It's important to put extra care into the spaces you use the most. Even though this space was being used multiple times a day, only about 1/3 of the stuff was actually seen and therefore being played with.
We did a major overhaul on this closet and I was so proud of the choices she was able to make. It's not always easy getting rid of your things but I can promise you, you won't ever look back. This space is full of joy for this mama now. This is where her kiddos find fun that keeps them creative for hours. This is where she homeschools her son and watches her little girl play.
I was able to spend a few minutes playing with her kiddos as I showed them their new space. Pure bliss I tell ya!
Homeschool closet BEFORE & now AFTER!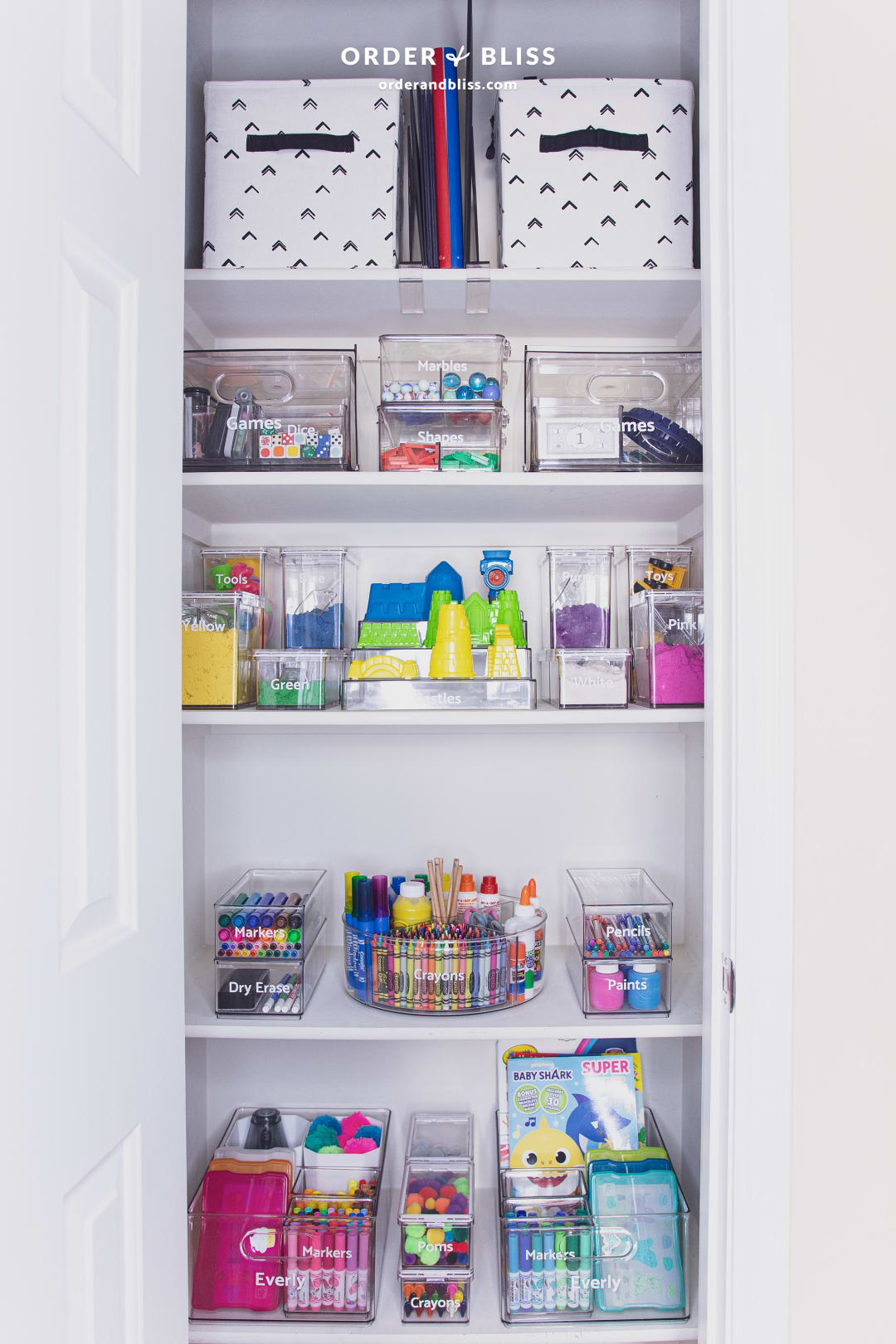 I truly love creating these spaces for people. When areas in your home reach their full potential the worries just seem to melt away. That's the beauty of organizing.
And sorry game boxes you are a thing of the past. ✌🏻