Our family of 6 is devastated. It all changed after the second check. The custom cabinet maker sent a text message that he won't finish and refuses to talk.
Updates since this was published:
September 12, 2020 - Blog post went live
September 13, 2020 - My husband (Ben) received a call from the custom cabinet maker
September 20, 2020 - Ben and the custom cabinet maker met in person. There was no resolution but they shook hands and agreed to work together to figure things out. Ben was tasked with sending an email with everything that wasn't completed.
October 7, 2020 - We sent a list detailing everything that wasn't completed in our kitchen.
October 7, 2020- the custom cabinet maker replied that he received it and would get back to us.
October 28, 2020- Ben followed up asking if everything is going ok.
November 19, 2020 - the custom cabinet maker replies with a response to the list.
November 20, 2020 - Ben replies with clarification.
December 11, 2020 - the custom cabinet maker asks for a phone call
December 12, 2020 - Ben replies and they agree to a phone call on 12/14.
February 2021 – A final update added to the end of this post.
---
To be 100% clear ALL OF THIS could have been avoided if the custom cabinet maker just talked to us.
My husband is quite possibly the most understanding person on this side of the Mississippi. Running two businesses with four children under 11 makes you patient, but not stupid. We believe that everything can be worked out with mutual communication and respect. We have never been unwilling to talk, just him.
Since the custom cabinet maker won't talk privately… I'll just have to write publicly.
This last chain of messages between my husband and the custom cabinet maker sums up the situation nicely
The Arizona Custom cabinet small business we hired to build our kitchen, laundry, and mudroom cabinetry, was walking away from our unfinished job with $20,000.
This meant that he wasn't only walking away from our job but he was leaving me, my husband, and our 4 kids during a pandemic without a finished kitchen and no end in sight. Only after 7 months of stringing us along. Why did he choose to do this after hiring him to begin work in December, well I wouldn't know because he chose not to answer our phone calls or texts for weeks maybe even months. There were a few one liners here and there but just pure silence on his part.
How could a man, a father himself of 4 kids leave another family high and dry like this? We know where he lives. Where he goes to church. How? That I won't ever understand.
Even if he hated our guts and wanted out of our contract, all he had to do was talk to us and we could have come up with a solution to do so. YOU CAN'T JUST LEAVE A JOB and expect to get away with it. He mistook our infinite kindness and understanding for weakness.
Well we finally broke, so here's everything.
The beginning was like a dream come true
My husband and I had spent months getting quotes and looking for an Arizona custom cabinet company that valued the craftsmanship we do but that also fit into our budget. In order for this post to be truly transparent I will share all of the dollar amounts with you, including our contract. Our budget for the cabinetry part of our remodel was originally 20k. A little ironic now when I get to the end of this story. However, we also just wanted to find someone that valued craftsmanship as we did and who we felt could make our dream project come to life.
This entire remodel has been years in the making for us.
One night (in October 2019) we were at Spencer's TV and Appliance looking and finalizing some of our choices, we had been there for a while. I saw this couple shopping that just seemed so sure of what they wanted. Truth be told… This is not me. I research and mull over every decision I make. So, I asked them… how in the world did you pick out a washer and dryer so quickly? You came in the store after us. Its a small store. I mean, I really wanted to know. It was impressive. As the conversation went on, we shared details of our kitchen plans with them and where we were at with everything.
By the end of the conversation they had recommended a gentlemen who builds custom cabinets. They really did praise him and his work. They had hired him for not one but two kitchens and couldn't say enough good things about his custom wood cabinetry. His shop was not that far from us in Phoenix, AZ. It was worth exploring. I remember sitting in the van afterwards thinking maybe this is finally the guy for our job. Now, looking back I realize that it should have been a bit of a RED FLAG that I couldn't find much in a Google search for his company (now there should be at least one result) and an unclaimed business on Yelp. The name is certainly common throughout the internet.
I called the custom cabinet maker within a few days and honestly had such a great conversation with him.
I still remember our conversation, I asked a lot of questions. He was upfront about the fact that he didn't actually make the cabinet doors and drawers. (something other companies were not so honest about) At first I wasn't really sure because I really did want our cabinetry to be custom real wood all around but I was willing to see his work and get a quote. Another important thing to mention is that we had full to scale, CAD drawings of our kitchen-laundry-mudroom. We'd spent months nailing down the measurements/details of everything and quite honestly making it easy for anyone to follow.
Here's our first email for the bid…
(I just realized we never got our laundry rod either. Sh+t.)
I also made it very clear to him on the phone that our quote needed to be for EVERYTHING pictured and written out in the notes. He said nothing would be an issue (asked me a few follow up questions) and sent us a quote.
The quote was a little more than our budget and at the time we weren't sure about the laundry/mudroom. It was just a lot of money and we needed a little more time to decide.
We originally signed without those items and then added them on after he sent us progress pics of the kitchen in February. That's why the second check was $12,000 not $8,000.
Every question I had, every issue that came up he said no problem.
I never once questioned his quote or asked for a discount. If you know me at all, you would know I don't pay the first price for anything but I did feel the amount was fair and it was a big custom home renovation.
After visiting one of his job sites in November, it was a sweet little family that just had a newborn baby. They were so gracious to let me into their home. As I was walking around the kitchen I noticed some things. Areas where the paint was a little off just some random stuff that I wouldn't have chose for our space. Some areas that needed to be mended, in my opinion. Easy fixes. Maybe things that wouldn't have bothered other people but bothered me. If I'm going to be paying someone almost $27,000 in cash I want to be sure they are going to do a great job and deliver quality work. He assured me he wasn't done with the job and that he would fix all of it soon.
I told him upfront, I was going to be picky. If things were wrong, similar to the things I pointed out in that kitchen I would expect him to fix them. We're not savages, so if a request was unreasonable, we just need to know why.
Yes, I am a perfectionist. This is one of my best qualities (as it makes me good at what I do) but also very hard because some people don't like to take responsibility for mistakes, let alone fix them. But again, HE WAS TOTALLY FINE WITH IT, he said it wouldn't be a problem for him and he valued quality/details as well.
We'd spent some time nailing down samples and the finer details. We were a little uncertain about the finish we wanted for our family table, but the design of our spaces never changed, unless it was per his recommendation.
Timeline of it all
December 2019
December 16th: We told the custom cabinet maker we were ready to move forward.
December 19th: We signed the contract.
Right before Christmas, the custom cabinet maker told us he purchased the material to start our job.
January 2020
January 1: 💰 We wrote the custom cabinet maker a check for $8,000 dollars. This was the first deposit. (the custom cabinet maker wanted us to wait until the new year that's why there's a delay)
January 20th: the custom cabinet maker sent me pictures of our job. Everything looked amazing. We were so happy. We told him so.
February 2020
Around February we had a major issue with our Kohler sink and had to wait for a new one to be ordered. We notified the custom cabinet maker of the delay. Shortly after, he had everything from us that he needed to complete most of our job. We were still figuring out the finish of our table and the hood design but that was the last thing he wanted to work on and install. We could have done it much sooner if he was able.
February 25th: the custom cabinet maker began to install our kitchen. Up to this point the timeline was mutual. We had contractors holding things up on our end and the custom cabinet maker began working on the rest of our job- or so we thought.
By the end of March he honestly could have completed and installed our entire job minus the hood.
February 28th: the custom cabinet maker shows up to install. He brings a lot, but not everything.
Excited about the progress, we decided to add on the mudroom/laundry and dishwasher panel. the custom cabinet maker says give him one (1) month.
This would be a month for the laundry-mudroom, and dishwasher panel only. The rest of the job was finalized before. the custom cabinet maker asked for an extra $4,000 payment ($12,000) to cover those costs.
At this point we should have never given him the $12,000 check. Looking back his payment schedule and the work he delivered, it wasn't 3/4 done. If that was the case he should have had our entire job completed over the next 4 weeks. Ugh.
💰 We trusted the custom cabinet maker and gave him the $12,000 check without hesitation.
March 2020
💀 This is when things got weird. Pandemic hits.
We didn't hear from the custom cabinet maker for over a month after that second check was cashed.
I just wanted to check in and see how things were going. I wasn't worried but yeah life was changing fast. He said everything was good, he was just adjusting. He told me he would have a hood sketch for me in a few days and everything else in 2-3 weeks.
April 2020
Another month goes by….
THIS IS WHEN I GOT WORRIED… we had almost no communication until May 4th when I checked in with him. Over a month again. He said he was going to start painting our cabinets (just now he was going to start, not a month ago like he said) and he would install next week.
I asked him if we could talk on the phone because I was waiting until we saw him in person to let him know how bad our cabinets and paint were cracking. I sent him pictures of everything after we got off the phone.
May 2020
May 5th: the custom cabinet maker basically told me he hadn't even started on the mudroom or laundry room yet. He goes silent again.
May 13th: I text him to check in. He reschedules on us.
May 19th: the custom cabinet maker comes to install a part of the laundry room. Not everything but at least something. He was in a hurry and said he would be back in two days.
May 21st: the custom cabinet maker shows up with our hood, walnut cabinets, sides to our island, mudroom top cabinets.
Where's the rest of the mudroom? He said he was working on it, months ago. I didn't really understand.
At this point we have… NO mudroom (bench, shelf, drawers, corbels). NO wainscoting, NO trim, NO crown mounding, NO kick panels, NO shelves, NO dishwasher panel, NO baking cabinet insert, NO family table legs or skirting. And nothing we discussed had been fixed.
June 2020
June 8th, I text the custom cabinet maker because I hadn't heard from him again. He tells me him and his family got sick with COVID-19. My mind went straight to concern for him and his family.
He says him and wife had it the worst but he says, he's good now. I asked him just to keep me updated on how things are going/time frame and to " mostly rest and get well!".
June 24th: I text the custom cabinet maker again after not hearing anything. Just checking in. NO RESPONSE. This was a month from the last install. I was genuinely worried.
July 2020
July 13th: I text the custom cabinet maker again and ask him to call me. By this point I'm not very patient anymore. He's showing disregard with silence and letting way too much time pass without even a text letting us know whats going on.
He calls and we talk through everything he needs to do. He tells me he lost our measurements for the mudroom and needs me to resend them. Ugh but fine. We resend them. Along with this update…
July 23rd: The custom cabinet maker actually shows up to our home.
No mudroom but we talk about things and we agree to only focus fixing the farmhouse wall, so we can finally have our countertops installed.
This was crucial for our countertops. He agrees. We cleared out the one wall for him.
The custom cabinet maker was not happy about the cabinets and paint cracking but he agrees.
We also discuss a huge detail he missed on our family table (height of cabinets/skirt), nothing ever changed. It was always in the drawing. He just overlooked it but my husband talked through a solution (cutting the base) that didn't require remaking the cabinet/doors.
I have no idea what happened next
We never asked him to repaint our entire kitchen, he was only suppose to be focusing on repairing the one wall (the one we prepared for above) but his guys show up and start taping and taking apart every drawer - the entire kitchen.
We asked several times, what they were doing but there seemed to be a language barrier. the custom cabinet maker, is no where to be found. He left.
By the end of the day we really had no idea what was going on. the custom cabinet maker has told us nothing and never returned. We had a household to run still, so we had to focus our energy there.
I guess it's obvious now how they over-sprayed my window. Sh+t.
July 28th: The next day our door bell rings at 7am and his two guys are here to work. I mean, no one told us they were even coming. The guy says, "the custom cabinet maker didn't tell you we were coming?" I said "No, but the custom cabinet maker doesn't seem to tell me anything anymore." My husband moves cars and clears out space so they can work.
They had everything taped off, something we were not prepared for. Again, he was only suppose to be fixing the one wall, so we could get countertops installed.
They re-painted our kitchen and left a huge mess. I spent 4 hours cleaning up after his employees, scrubbing my windows trying diligently to get off the over spray off, only to find that my cabinet edge had been sanded off. It's hard to capture in a picture but very obvious in our kitchen. They carelessly sprayed the inside of our cabinets and left-out other cabinets when they were spraying. It was a mess.
the custom cabinet maker NEVER showed up, never checked in with us after his workers had painted. I sent him a text reminding him that everything we had discussed was not done. (see text) It didn't make any sense.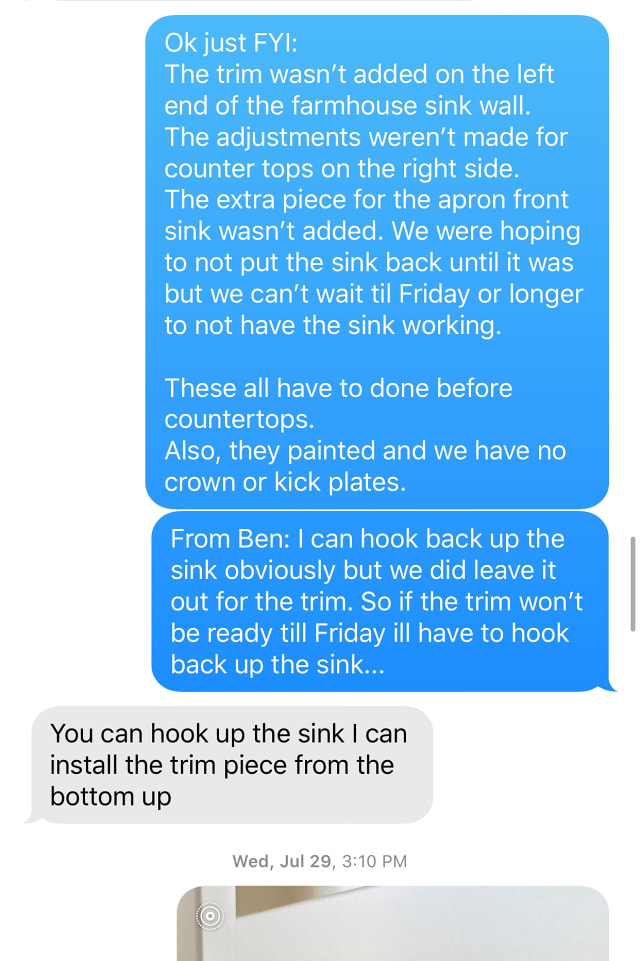 July 29th: I call the custom cabinet maker to talk about what had been done. The most upsetting part was where they sanded our cabinet. No one admitted the mistake to us, a very visible mistake. We had to find it. I don't care what anyone says. This cabinet wasn't delivered this way, theres no excuse to not fix it. the custom cabinet maker told me he would be by tomorrow to look at everything. I left it at that.
July 30th: I text him around 4pm asking when he is going to arrive?
Around 6 pm, he says, "Ok not going to make there today anymore I'll will come in the morning around 9:00"
the custom cabinet maker NEVER showed up and he NEVER really talked to me, ever again.
July 31st: the custom cabinet maker sent another man over and he was so helpful. We were appreciative. He helped us get the wall finally ready for countertops that were coming in just a few days. Well almost, my husband had to scribe a piece of trim to fit that has been sitting there for months uninstalled.
July 31st: My husband sends the custom cabinet maker a thank you and just letting him know what a good job his crew did today. NO RESPONSE.
August 2020
August 3rd: My husband text him again, asking for the trim we need for the farmhouse sink and extra support required for the countertops. The countertops weigh so much and the supports he did would weren't aligned.
the custom cabinet maker does respond by saying he will send someone Wednesday.
My husband asks if they can hang the hood. This is not the first time we've asked. Just the first time this month. NO RESPONSE.
August 5th: the custom cabinet maker says his guys will come around 1:30-2:00. At that time we let him know we hung the hood. We could not wait for him to respond. The countertops were coming and this was crucial. But we did save him time and install by letting him know before that we had done it.
It was NOT an easy task for us but he left us no choice.
Two of the custom cabinet maker's employees show up and add the extra support. They brought most of our door fronts. Attempted to adjust the wall trim but didn't get it right, put in most of the shelves, added bumpers to the drawers, and glued in the trim around the sink. All in all. It was a great day. We were almost ready for countertops. We did the few extra things that were needed ourselves after his guy left.
August 13th: I check in. NO RESPONSE.
August 17th: I send a question mark (this was 4 days later)
the custom cabinet maker responds, I wont be able to go back for 2-3 weeks. ( I mean come on, that's not a response)
I tell him if he can have everything done by then, it wont be a problem. I asked him to send the vented drawer samples I've been waiting on for months to make sure he orders them in time for our mudroom. NO RESPONSE.
August 19th: I asked him to give me a call. NO RESPONSE.
August 21st, I call him. He dodges my call. Hangs up after 2 rings. I leave a message asking him why he's acting so unprofessional. Pleading with him to make our job a priority and finish. NO CALL BACK.
August 24th: Out of options we send him a final list. It has everything he needs to complete our job. NO RESPONSE.
We spent the evening trying to make this list as clear & easy as possible. We sent it as a long image so that none of us could change it. This was the final list.
Aug 27th: My husband starts texting and calling him. NO RESPONSE.
August 28th: I send him a message basically telling him I'm loosing sleep over this. Telling him it's our Son's birthday tomorrow and we're consumed by the fact that he wont respond to any of our calls or texts. Asking him to please call or text. NO RESPONSE.
That's the last text I sent.
This entire time. I can see he has read every text we've sent. He clearly doesn't understand that its an option or he just doesn't care if he hurts people with his silence.
We spent a day drafting this letter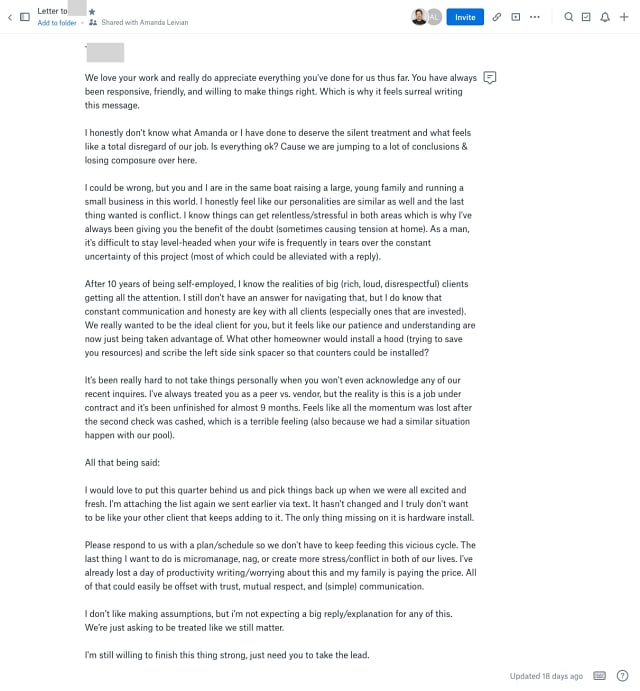 It was ready to go, but we actually didn't send it after getting a reply. We thought the custom cabinet maker was actually going to do something.
Aug 28th: My husband sends him a "?" ( He never answered him from the day before)
He doesn't respond to me, but he does respond to my husband. He says he wont be able to come next week, only the following week. He still has to finish fabricating and painting the rest of the items.
My husband thanks him for the reply and says he'll check in next week to nail down the schedule.
Sep 3rd: My husband checks in again. Clearly you guys can see the 2-3 weeks he said he would be back and that he was working on everything, is here. the custom cabinet maker responds: says he's thinking Wednesday.
My husband thanks him.
September 2020
Sep 9th: My husband sends him a message asking what time today?
the custom cabinet maker responds and says 11:00.
Sep 9th: My husband ask what we should prepare for?
You guys, the custom cabinet maker never tells us anything. We never know what he is doing, when he is showing up, and what to expect. He never said a word about the list we sent. It's so hard, especially when I'm virtual schooling our kids. We need a date and a plan.
He says he doesn't have the mudroom cabinets. (7 months later and he still doesn't have them)
Sep 9th: My husband says, Hm, ok. Let me know what areas you will be working and I can make sure they are cleared.
Sep 9th: 11:35am the custom cabinet maker sends a message, I know you guys know what this one says.
I'm sorry but I can't continue on your project I will drop off the doors and moulding that I have of your this week.
I got so physically sick, I THREW UP. I was crying and shaking for hours.
He said he was coming at 11. We moved our kids work stations, we did everything to prepare and he just QUIT ON US. Are you even human? Did you plan this all along? Are your bigger jobs really worth hurting the little people?
Even if he would have called us the next day and said he overreacted.. we would have let it go. The mistake he made was thinking that this would ever be about money for us. Sure, you didn't get your final payment but you didn't finish our job. Was the $20,000 (twenty thousand dollars) already spent?
We would have gladly handed over that final check if he would've finished the job and kept his word to repair the mistakes.
You can make your speculation but what do you think his thought process could have been? All we ever wanted was a finished space for our family. That's all, and he couldn't deliver it or even talk to us.
Payment schedule and amounts.
By February 2020 we had paid him 20k dollars which was the equivalent of the job being 3/4 done based on the timeline I showed you. I mean looking back again I shouldn't have been so willing to give him that last 12k dollar check knowing how much was still unfinished. We trusted him and he said he was working on it. Yep, I said it, he fooled us. He fooled me especially. Most of the time I can anticipate it before I even get wrapped up in it but never in my life did I think that the custom cabinet maker would walk off our job. You fooled me, Sir and you disappointed me. I'm not sure I will ever trust anyone outside of my family, again.
Take a look at this timeline…
We signed in December 2019
After checking in with him. He sent me a text saying him and his family had COVID. I was devastated for him. I was silent for weeks, giving him time to rest and recover.
He walked off our job (not in person) in September 2020
That's right friends, 7 months from the 2nd payment. 9 months we've been living in an unfinished space with four kids, a pandemic and virtual schooling. Not all on him, but definitely just waiting for the custom cabinet maker to install the items we paid him for back in February.
HE QUIT ON US.
What I realize now…
We were too nice.
We were way too accommodating/patient.
We never should have let so much time pass.
We never should have allowed his lack of communication to continue.
We never should have trusted him whole-heatedly.
There's certainly a fine line between being understanding and being taken advantage of. He took advantage of us and then wrote us off basically putting our stuff out on the curb (or 10 feet from it). The second we began to put pressure on him and asked him to finish our job, he noped the f-out.
The family man I met back in November and the man that put doors in our rocks to avoid even coming to our door… are entirely two different people.
February 2020
From the first day he came to our house to install and didn't have everything I should have put pressure on him. We were ok with it, we expected it but we were wrong. Never in my life would I have imagined that almost a year later, we still wouldn't have everything done. It's UNACCEPTABLE. I mean who does that to someone? If you're paid to do a job, you do that job. You don't leave someone hanging in a home under renovation for small kids. You just don't.
the custom cabinet maker, when this gets around to you, think back to when you told me you would never be like those people who walk off of a job. I think your exact words were that you wouldn't be able to sleep at night if you did that to someone. Yeah, I know the feeling, countless sleepiness nights have been had and are still ahead. We're mentally, physically, emotionally and financially spent. I'm not sure I have any tears left to cry at this point.
How things were delivered:
From the very first day of install, there were items that arrived with visible damage. I brought it up right away.
His worker, Andrew said that it would all be fixed before they finished the job. Even after countertops, everything would have to be adjusted. Drawer paint had been nicked, banding was peeling off, doors were cracked, paint was chipping and missing coats, shelves were yellow (tannin ??? stained) and would literally crack if you touched them. At one point, the custom cabinet maker himself even leaned on one of those shelves, cracked it, and said "it's junk anyways". Junk that he delivered that way, by the way.
Here's a look at just some of the things we dealt with throughout this process…
And this was everywhere not just in these few areas.
Our cabinets were another story in themselves. As soon as they were installed and honestly even before they were, you could see that the paint was chipping, the banding was lifting, and there were drip marks. THIS IS NOT NORMAL. I don't care what anyone says, you can not deliver items to someone that they paid for that look like they were painted by the new guy. Maybe that seems harsh but no professional would install what he installed thinking it would be fine. It was so obvious and it only got worse. Yet again, fully admitting that there was a huge issue with the paint he used and that he had never experienced this.
Not sorry for keeping my promise of pointing out issues. Mistakes happen. Sh+t happens. Just fix it.
We were just so bummed that so many things needed to repaired after they were installed. You never go into something wishing for there to be problems. You cross your fingers and hope that there isn't because no matter what there will be a conversation about how it's going to be fixed. The cracking just continued to get worse and worse. Our brand new kitchen was beginning to look like it had been used for years, even though at that point we didn't even have our countertops yet or a single thing in the drawers. I was embarrassed by it. I wouldn't even share our space with my friends. It needed work.
You guys would ask me on social media about my kitchen, about the renovation, for pictures and I truly didn't know how to respond. I guess it should have went something like this.. well its been over 6 months and we still don't have a completed space.
We're living one of those renovation nightmares you never hope to actually experience. How would you feel about this damage after paying someone $20,000?
Here's how I see it.
If someone asks to see your work, would you show them damaged and cracked spaces or your best work? Clearly, your best work. Let's say you did show them damaged and cracked spaces, would you actually expect them to hire you? Would people hire you? But for some reason it's ok to deliver and install it that way once you've been paid? You be the judge as this continues but would you accept this "custom" work in your home? I THINK NOT.
I also want to make this clear that we never demanded anything from him. We never threatened him, we never yelled, we never put him or his work down.
Quite the opposite actually, we repetitively told him how happy we were with most of the items.
Thanking him and reiterating how happy we were many times. We only asked him to fix what was damaged and keep us updated along the way. This also seemed to be a really hard thing for him to do. He could NEVER give us a date upfront for anything. No matter how many times we asked for a real timeline, he NEVER delivered. Everything was based around me constantly following up with him as you can see. I would ask, I would ask a week later. He would finally respond. He'd show up sometime later with only a few things and certainly not what he said he was working on.
It was SO stressful. the custom cabinet maker strung us along. I don't like checking up on people and honestly I shouldn't of had too. Something changed after we gave him that 12k check.
7 months later and our job never got finished. If you put that into perspective, he should have finished our job by the end of March or just into April. Again, our mistake. We never should have let him treat us like this. Meanwhile always telling me how "busy" he was and posting to IG about these "big" custom jobs.
This would be my (now obvious) advice to anyone renovating:
Don't give anyone too much money upfront. Make them show progress before. If the schedule and payments are unreasonable, rework the payment schedule or say goodbye.
I get that this may make it seem like we're perfect and without fault (for dragging this out) and that is not the case. There's been many times where I wish I could have been ok with certain things. An example would've been when he delivered our walnut cabinets damaged, fully acknowledging that he installed them that way.
I could tell by the look on his face that day, that he wasn't sure how he was going to fix them but yet he brought them damaged anyway. It's not as if walnut can just be easily patched. The cabinets weren't even ours yet and they were damaged. Even so though, he acknowledged that he delivered them damaged and that he would fix it. He NEVER did.
As a Mom of 4, I deal with a lot. I never expected to have this perfect pristine home, I didn't need perfection, I needed results.
I fully expect my kids along the way to mess things waaay up. But if I'm paying someone to do a job, I do expect THEM to deliver it new and in the shape and quality as they spoke so highly of before I wrote the check. Is that asking too much? I mean isn't the reality that we're the client, not him.
It was like he was taking his mistakes and his crew's mistakes out on us. Instead of taking responsibility, talking to us and just fixing them, he began punishing us.
Are we the first people to ever call you out on them or was the quality of our job not important to you?
The punishment began with complete silence. Literally, the worst thing you can do to someone is go silent. You're basically saying F*k you but are too cowardly to actually say it. No matter what the custom cabinet maker says about our job, HE NEVER FINISHED IT. Not only did he not finish it but he refused to resolve whatever issue he had in any way.
We have literally tried everything.
First he didn't respond to me. Even though I was the direct line of communication from the very beginning. So, I asked my husband to try to reach him.
Call it what it is but he responded to my husband. It felt very personal and straight up wrong.
I truly didn't care though because all we wanted was our job to be completed. There are some things in life that just aren't worth speculating. I will fully admit I cried two times on the phone with him in the past, not sobbing tears just disappointed emotions. It was a lot to deal with and dragged on for months. I mean valid tears if you ask me, but I'm just a female. If he couldn't handle it, then he should have said it. Man up. I would have gladly passed the baton to my husband so we could get our home completed.
You guys, I tried everything with him. I texted, I called, I literally pleaded with him and said please more times than I could count. The worst thing I ever said to him was that I didn't understand why he was acting so unprofessional by not answering my calls or texts. Here's just a sample of how he treated me.
You can see all the times he just ignored me and simply didn't show up!
This entire thing doesn't make sense. He was so close to finishing our job. In the grand scheme of things, he probably had a week's worth of work maybe less with employees helping.
We had two really great people arrive, a gentleman and his wife. He was working furiously. We got the feeling that he was spending too much time at our house (his phone rang a few times).
This was the first time in months someone had really shown that they cared for our home and was actually trying to help us out. Thank you Mr. & Mrs. R. for caring. This employee, R. was so kind to us.
R. gave us hope that everything was going to work out. "the custom cabinet maker always makes things right". Sadly, that was the last time he came to our home.
I knew that day, that we weren't a priority to the custom cabinet maker anymore just a deficit.
We weren't seen as people anymore, just dollars.
All these big jobs the custom cabinet maker talked about… "I'm in Scottsdale, I'm in Cave Creek, I'm on this job, I'm finishing this install." Wow! Good for you, custom cabinet maker but what about us? Just finish what you've started, what we paid you to do and then move on. Sad you forgot about the conversations my husband and you had in 2019 about how hard self-employment has been.
Something tells me these big Scottsdale jobs are where the real stress is at, we are just the punching bag in Phoenix.
After the custom cabinet maker had texted us that he was not completing our job, he delivered these items a few days later. In our rocks.
"he literally just left your sh+t on the curb" – Awesome IG follower
10 feet away, but pretty close.
He didn't even have the decency to come to our door. And look at the stuff he has in his truck. It looks like he was headed to another job, huh? Sickening. I wonder If he'll walk out on them too.
Did he bring us everything we needed to complete our renovation.. no, not even close. Thank goodness we have some of the matching doors. I can't imagine trying to match those. It's already going to be a chore finding everything else we still need and painting it to match. Ugh, you guys this is a living nightmare.
You know what I'm going to do here.
When I shared our story on my IG platform your responses were overwhelming. I wish you guys could've seen it but its all private inside my messages.
What I am going to do is share your initial responses. I'm not going to add names just what you first said to me.
Buckle up, there are a lot of them.
"I'm so sorry. It sucks because they have you up a wall. "
"I feel for you we just went through something similar, we had a contractor just basically quit on us after we cut - "the last check."
"Sue him."
"Ugh, this is so infuriating. I feel for you, girlfriend. "
"This is so heartbreaking to watch. I'm so sorry you're going through this. "
"This is awful. My stomach hurts for you. "
"I'm so sorry you're going through this! How frustrating. "
"So sorry that this happened to you guys. (cussing emojis)"
"This is just terrible. Makes me sick. "
"I'm so angry for you. This is seriously outrageous."
"I'm just so sorry. This isn't ok."
"I'd be so angry with him."
"Aww I can't imagine. "
"Unacceptable and just disgusting. "
"I know you don't want to put his name out there but I think for people like me, I really want to know who it is so - "I never use him."
"Ugh. Just no."
"Is there anything legal you can do? Have you contacted a lawyer? "
"I'm so sorry, Amanda. So upsetting that someone would do that without any clear communication. "
"That sounds so disappointing and frustrating. I'm sorry. He is super unprofessional. "
"My blood was boiling watching your story. "
"Oh no. Hugs to you. I'm so sorry this has happened to you. "
"Can you show up at his house? This is devastating! I'm so sorry. "
"Were there any signs? "
"That sucks. I'm so sorry. "
"Unreal. "
"Its not a reflection on you. "
"I am so so sorry. I hate this for you. "
"Do you have any friends that are lawyers? "
"Whats his name? I need to know who would do this. "
I could go on and on. It's easy to see that he's in the wrong. Clearly, you guys are just as sick to your stomach as we are. I knew I had a great support system in my family, friends and followers but you guys blew us away. It's the reason why I'm devoting so much precious time to writing this blog and sharing all of this.
I want to make sure the custom cabinet maker doesn't do this to anyone else.
You guys asked me many times to share his info on IG but I wanted to really tell our story first with full transparency. Its taken me countless hours to recall every last detail. Its been almost a year in the making. INSANE. My friend said her brain hurts just looking at how much I'd written. It's not in my nature to bring anyone down, to mess with anyone's livelihood but he literally left us no choice because he wont talk to us.. Now the first thing people will see when they search his name, is this post warning them to pass go and keep their $20,000.
Thank you for all your support. You guys are incredible. We have so many people in our corner with this and we're so grateful.
Unfortunately, for us the nightmare is far from over. The person my heart hurts the most for is my husband. We tried to complete as much of this renovation ourselves and only reached out to hire others when we felt unqualified. It's not as if we can just pay someone to complete the job or even trust anyone else at this point.
We will have to try to find the time to complete things on our own while virtual schooling our kids and living in it.
It breaks my heart thinking about it, we may very well not even have a completed space by Christmas. I mean how much more can people handle this year? So much time will be spent, hunting down door manufacturers, adding trim, kick plates, adjusting drawers and cabinets, patching holes and re-drilling, installing the crown moulding we do have, purchasing and painting more crown and trim, purchasing a system for my baking cabinet, purchasing paint supplies, making shelves, fabricating an entire mudroom, wainscoting, repainting our cracked hood and cabinets, repairing the custom cabinet maker's employee's mistakes, all while not making any money because we can't do both. It makes me want to crawl into a ball and just cry.
We had always hoped the custom cabinet maker would have just taken responsibility, kept his word, and led the way. This story could have ended so wonderful. These 7,000 words would have sang his praises instead.
We will update this post if anything changes, but sadly aren't holding our breath. If our story saves any other family a year of anxiety (and savings), it will be worth it.
Final Update: February 2021
I've thought a lot about how I would write this update. A simple, it's been months and there's nothing to update or how the agony continued for months. Truth be told, this update would have been entirely different a week ago. You wouldn't believe the words I had to erase, so much writing.
I believe everything happens for a reason, especially if it doesn't make sense. The day before a post update was scheduled to go out, my husband received an email from him. Part of me was happy but the other part of me just didn't understand… why now? So many emotions came flooding in. I haven't felt that anxiety in months.
Why after an entire year had gone by since our cabinets (some of them) were first installed. An ENTIRE YEAR!!! WHY?
I've spent months trying to heal from all of this and I was finally moving forward. I even got my hair done and everything. Seems a bit vein but it was a necessary step to feeling like me again.
Whatever the reason, my husband met with him and exchanged the items. The items were phase 1, as we called it. Phase 1 included the original items we paid for and never received. The other phases included the items in our contact before he quit on us.
To this day I'm not even sure if he's sorry, or just sorry word/my-posts got around and fast. I hope it's the latter. I guess it really doesn't matter, does it. The truth is, I was so happy when my husband put in those shelves. A few of my cabinets haven't had shelves for months, it was such a simple thing that made all the difference. Every shelf in my kitchen I created for a reason and I was finally able to use them how I invisioned. We've been trying our best to fill in the missing pieces for months but time is sparse. Not much has changed.
It's hard for me to write this update. Part of me is satisfied to have anything, but then there's the fact that this dragged on for months. Nothing had changed since I wrote this post until a week ago. 5 dang months. Were there conversations, yes. But mostly there was false promises… again, and ridiculous notions. It was so painful.
I've been sad for so long and I guess this is my way of saying I'm done letting this consume me. There's still so much that'll never be completed or fixed, but maybe something better is in store. I have to believe that.
The same belief that made this situation so much worse for me in the beginning is what I have to lean on. In the beginning of this, I went from dumfounded, too angry, too sad, to absolutely heart broken.
Our kitchen for me isn't just a space in my home. It's EVERYTHING TO ME. It's where I spend the majority of my day. It's where I feed my family 3 times a day, help with homework, and come up with new organizing ideas. It's everything!
Moving forward… what I'm looking forward to the most is the day our space is complete. We've been working tirelessly trying to learn the ins and out of everything DIY home renovation… in our spare time. With three kids schooling from home there's not much of it. Have you ever cut and installed crown moulding? Us either. It's not as simple as it seems.
When our space is complete it won't be because someone brought us some shelves it will be because WE worked dang hard to make it that way. Despite the trials. Oh but friends, that day isn't today and this story doesn't have a happy ending… yet!
Turning the page…
This post has gotten thousands of views over the last few months. I'd hate for it to go to waste when you've stumbled upon it looking for honest craftsmen/craftswomen to hire. Our luck hasn't been the greatest and the more I've shared our story the more I've realized how this happens to others WAY too often as well. It's not EVER acceptable.
I'd love to turn this into a space where good workers are highlighted and praised. Through trust and honestly they're business soars. I wouldn't refer anyone unless I truly believed this would NEVER happen if you hired them.
If you are reading this and truly believe someone should be highlighted for the good they've done please reach out to me. How amazing could this be…
John 16:33 – I have said these things to you, that in me you may have peace. In the world you will have tribulation. But take heart; I have overcome the world.